The uncontrolled outbreak of COVID-19 pandemic has forced people of about 170 countries to go into quarantine. Social distancing is the only prevention that may have some significant results against the novel virus. But everything comes with a cost – and social distancing will definitely lead all human beings to be socially isolated and without fun. What if we told you – Google presents Quarantine and Chill with its new Netflix extension?
Google Chrome's Extension:
With all cinemas and movie houses closed and all friends in quarantine, a person cannot possibly plan of having a movie night. However, Google is here to save the day. Google presents Quarantine and Chill with its new Netflix extension to the world. Google Chrome has recently released an extension called Netflix Party which allows users to connect virtually and watch the same Netflix show together, while they are in their homes far away from each other.
Quarantine and chill?

With a Google Chrome extension called Netflix Party, groups of friends can get together virtually and watch Netflix at the same time. It even comes with a chat room, so you can share your reactions. https://t.co/8qrGmp2cO8

— USA TODAY (@USATODAY) March 18, 2020
But the first question that pops in one's mind is that how can we get the real essence of a movie night without discussing the movie being played itself? Well, Google Chrome has got you covered. Because Netflix Party extension comes with an in-built chat room that connects all the virtual members of the movie night in a way that everyone can talk to each other, and of course nitpick the movie. Choose a vibrant user icon and screen name of your choice and share all your binge-watching feels through messages, screenshots, emojis and GIFs.
How to Quarantine and Chill?
If you want to participate, all you need is a Google Chrome browser, the extension and of course a Netflix subscription.
1. Access netflixparty.com with Google Chrome browser and click on the "Get Netflix Party for free!" button. You will be redirected to install the extension available on the chrome web store.
2. Click "Add to Chrome" which will start the installation process. Then click "Add extension" in the pop-up window. Netflix Party extension will then be added to the top right corner of your Google Chrome browser, just with the address bar. It will be abbreviated as NP.
3. In order to connect with your friends, make sure your friends have downloaded "NP" onto their Google Chrome browsers as well.
4. Using your Google Chrome browser, go to Netflix.com, and play the show or movie you all want to watch.
5. Then click on the "NP" button on your browser beside the address bar. You will also have the option of making yourself the admin. This will give you the sole command of pausing, fast-forwarding and rewinding. By checking the "Only I have control" box, you can get yourself that access. If you do not, anybody in your group watching will be able to use these features.
6. Click "Start the Party" and copy the URL that appears. Send this URL to the people you want to join your party.
7. Once your friends open the link, they will have to log into their Netflix accounts and hit the "NP" button on their Google Chrome browsers to join the party.
Google Chrome has really worked it out to prevent people from getting bored in isolation, ultimately promoting people to go in quarantine. And as expected, people are starting to like the concept. Quarantines will be much more fun.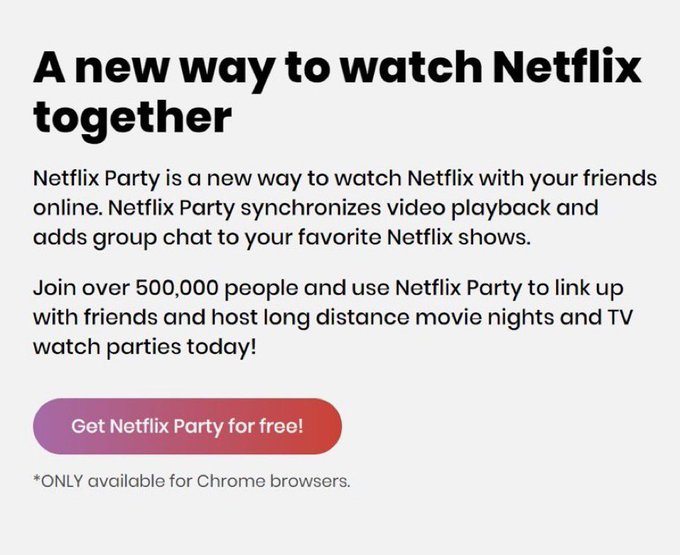 Read Next: PSL 5 called off due to Coronavirus